MEMBER MONDAYS | Rakefet Laviolette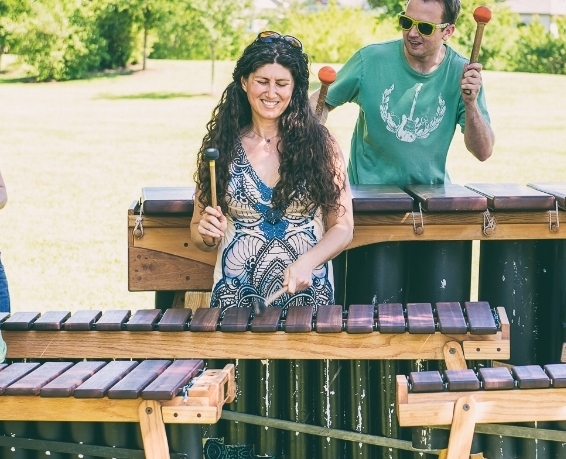 Currently serves as the Programs Director of Rattletree School of Marimba, an organization that focuses on offering band-style classes teaching the community how to play all sorts of different kinds of marimbas. On this week's MEMBER MONDAYS, we spoke with her about what brought her to the marimba in the first place and what amazing things she's doing with her unique, exciting organization.
Tell me more about the marimba! What drew you to that instrument in particular?
Rakefet Laviolette: I fell into marimba music via OkCupid. I was the person who said things like "I have no rhythm." "I'm not creative." "I love music, but I could never play." And then I met my now husband, Joel Laviolette, online. I had seen his band, Rattletree, showcase at SXSW the year before and loved their energy. I tried my "I'm not...." lines on him, and he handed me mallets, smiled and said "If you can walk you can dance. If you can talk you can sing." (Zimbabwean Proverb). It truly was that simple once I stopped holding myself back. The marimba is a large wooden xylophone and any note you hit vibrates with pure joy. I feel as though the marimba chose me and what I love most is seeing the light in students' eyes when they realize that within about 5 minutes they can be playing a marimba song with friends. The marimba's percussive element grounds me while the melody and vibration uplifts my spirit. It's amazing!
How did the Rattletree School of Music get its start?
RL: Joel brought the band Rattletree to Austin when he moved here in 2006. Whenever they would play, folks would come up afterwards and ask how they could learn. Over the years, Joel built marimbas for students and began teaching classes in his tiny rental house on Mary street. Pretty soon the marimbas took over the kitchen and dining room. There are 7 marimbas in a typical set up and the bass alone stands 6' high and 10' wide.
By the time I met him in 2012, he had just found a space in the Thornton Rd. Art and Music Studios. I was coming to the end of my current job at the Jewish Federation of Greater Austin, and decided to jump into the brand new Rattletree School of Marimba business with both feet. It was the best decision I ever made! Joel's expertise in the music and high creative drive mixed with my business savvy and our shared commitment to fostering community makes us a great team. The school grew by leaps and bounds, new student bands started playing festivals, and we we're honored to receive the Esme Barrera Award for Music Activism and Education within the first year.
What do you find most surprising with first time students when they pick up the mallets and play for the first time?
RL: Seeing people pick up mallets for the first time and smiling when they discover that within a few minutes they are actually playing music that sounds good delights me every single time.
What does it feel like, for you specifically, to perform?
RL: Performing is my happy place. I feel energized by the music, the fun of playing with my band mates and most of all the people on the dance floor. It feels like one big lovefest whether we're playing an intimate private party, a club, or the Austin City Limits Festival.
There is a video of the band Kupira Marimba performing at KUTX. And in the video, there's this HUGE, very tall marimba being played. What in the heck is that?? (More succinctly put, can you explain to me the different roles of everyone in a marimba ensemble?)
RL: (laughs) That's the bass marimba. It's SO much fun to play. The mallets are made of rubber lacrosse balls and you get to stand on a platform to play it. A typical Zimbabwean style marimba orchestra consists of seven marimbas - including leads, sopranos, tenors, baritone, and bass, plus the hosho shakers. The hosho are gourds filled with hard seeds that are kind of like maracas. They are often referred to as the heartbeat of the music. The various marimbas each play separate parts that interweave creating interlocking and resultant melodies. Students learn to play all of the different sizes of marimbas and get to switch instruments depending on the song, so you're always moving around.
What are some the biggest challenges you face, both as the Program Director of the school and in booking for the different ensembles?
RL: WIth Rattletree, Kupira Marimba & Mafaro Marimba, my biggest challenge in both booking and recruiting new students is trying to explain what a marimba is. Once they get past the "otherness" element by hearing the group live or watching a video, then the music speaks for itself. My other challenge is explaining to talent buyers the differences between Joel's band, Rattletree, and the acoustic bands (Kupira Marimba & Mafaro Marimba). Rattletree started off as an acoustic marimba ensemble playing traditional Zimbabwean music. Kupira and Mafaro Marimba now fill that family-friendly role, while Rattletree has evolved into a full sensory electronic music experience. Rattletree has been around for such a long time here in Austin that many people think that what they were 10+ years ago is what they are now, but their audience and style has changed dramatically. Rattletree's current format consists of two malletkats (electronic marimbas), guitars, drum set, a live VJ and synths.
Your husband Joel spent a great deal of time in Zimbabwe learning under the tutelage of great mbira players. How does he connect with his students in Austin in such a strong way?
RL: Joel was drawn to Zimbabwe to study mbira. The mbira is a block of wood with metal keys that sounds like musical rain. It has a deep repertoire of spiritual trance music going back over 1000 years for the Shona people. Joel moved to Zimbabwe in his 20's, learned the Shona language, found master mbira players and respectfully asked them to teach him. He lived in the ghetto outside of the capital Harare for several years and toured the country playing with his teachers. When he returned to the States, Joel continued playing mbira and also wanted to share the music in a more communal way. He built a set of marimbas and arranged the mbira music to be played by a marimba orchestra. More recently students have been also learning the mbira with Joel both in Austin and online through videos in our global Patreon community.
I think that Joel connects with his students because he strongly believes that this music is for everyone. There isn't a separation between audience and performer in Zimbabwean music, and he brings that understanding to his students.
How did your time involved with other nonprofit organizations in New York and San Francisco differ and prepare you for your current role with Rattletree?
RL: My nonprofit career prepared me perfectly for being a small business owner. In both situations I get to wear all of the hats - booking agent, event planner, marketing director, performer, music teacher, graphic designer, grant writer, construction worker, website developer, and so much more. The big differences are the uncertainty of living without a steady paycheck and the satisfaction that comes from building a business that I believe 100% in from the ground up with my partner in life.
Where do you envision the school 5 years from now?
RL: In 5 years I'd love to see the school continuing to serve as a thriving community center. It would be wonderful to have a few more student bands including an all female band. Joel and I are also putting our energies in to creating an in-house recording studio, filling custom-build marimba orders in the wood shop, and doing more sound design work and licensing songs (www.joellaviolette.com) for video games, film, ads and TV.
Time and time again, people describe their experience watching groups like Kupira Marimba perform as being an incredible experience that they simple cannot sit still during. They want to move, they want to dance. Can you talk about hearing those kind of audience reactions? What does it feel like to hear that?
RL: It's absolutely true and it makes my heart sing. My favorite introductions of the band were by a tv anchor who said "Get ready to get happy!" and when John Aielli said "You cannot hear this music and not be dancing." Just a couple of weeks ago we played a trio gig at a conference and there were several people dancing in their business suits and fancy clothes to the music in the middle of the Waco Convention Center. I couldn't stop smiling.
INTERVIEW BY: Spencer Mirabal
MEMBER MONDAYS is a weekly interview series highlighting current members & alumni of the Austin School of Film + Austin Cinemaker Space community! Each week, we'll be featuring one of our incredibly eclectic community members and take a deep dive into their work. Gaining an insight into what makes them, them.