2018 E.A.S.T ARTIST HIGHLIGHT | Sarah Luna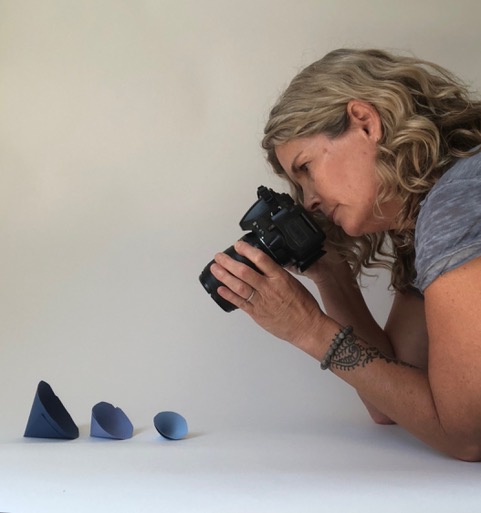 We're exploring the world of the dozens of local artists featured at MMAC's 2018 EAST gallery and their mediums. The goal of this series is to shed light on real-life Central Texas artists exploring what & why they create.
What made you realize you wanted to be an artist?
I've been creating in one way or another for as long as I can remember. I've always enjoyed the solitude and quiet the process of creativity demands. I studied Fine Art as an undergraduate and then went into a career in product design. Many years later, I completed graduate studies in Spiritual Psychology with an emphasis in creativity and innovation. This experience opened me up to a new perspective of creativity - a free and expressive way of creating that comes from an internal process. Art as a practice. Five years ago, I accepted the invitation to create and share the work that was flowing through me. I am grateful for the practice and process of being an artist, it intrigues and humbles me - creating and sharing my work also brings me great joy.
With your art, what kind of message or story do you find yourself trying convey and how do you use your medium to do that?
My work tends to be contemplative, offering the viewer an opportunity to slow down, pause and reflect. My images are 'moments' that invite the viewer to open their mind and soften their heart, to look deeper and see beyond the seen. I don't consider myself a photographer - I enlist the camera as my medium. I paint with my camera - using light, exposure and movement to create diffuse, ethereal images that elicit a sensate response. When I am selecting and editing images, I am scanning my own body for a visceral response - an internal 'yes' - often felt as a pulse in my belly or a swelling in my heart. When I feel this, I know it is an image that wants to be shared - to be seen.
Tell us about the work you'll be showing in EAST! Is it narrative and/or emotionally driven? What are you hoping to leave the audience with?
The work I'll be sharing at EAST will be soft, abstract images intended to offer the viewer a moment of respite from the intensity of our world, a moment of comfort and assurance, a moment to contemplate, a moment spent with beauty. The work is entirely emotionally driven - asking the viewer to check in and feel what's being felt in this moment in response to this image. Right here, right now...
I am hoping to give the audience a glimpse of something bigger, to lift them up out of the mundane, to maybe ease some of their suffering and leave them with a sense of joy, wonder, and optimism (just for this moment). And maybe some of them will feel inspired to take one of these moments home with them!
Since this is your second time showing your work at Motion Media Arts Center (we loved having you last year), why did you choose to return?
I chose to return to MMAC because I had a very positive experience there last year! Carrie and all the staff were very supportive, fun and accommodating - I felt welcome, comfortable and secure. I love the physical space - the openness, the abundance of natural light, the spaciousness and the flow. I love the vibe - youthful, progressive and innovative. Also, as an artist using photography as my medium it feels like a natural fit!
CHECK OUT MORE OF SARAH'S WORK ON
ABOUT BIG MEDIUM'S EAST AUSTIN STUDIO TOUR:
Big Medium's East Austin Studio Tour (EAST) is a free, annual, self-guided art event spanning two weekends in November. EAST provides opportunities for the public to meet the artists and artisans of Austin in their creative spaces.