2018 E.A.S.T. ARTIST HIGHLIGHT | Meena Matai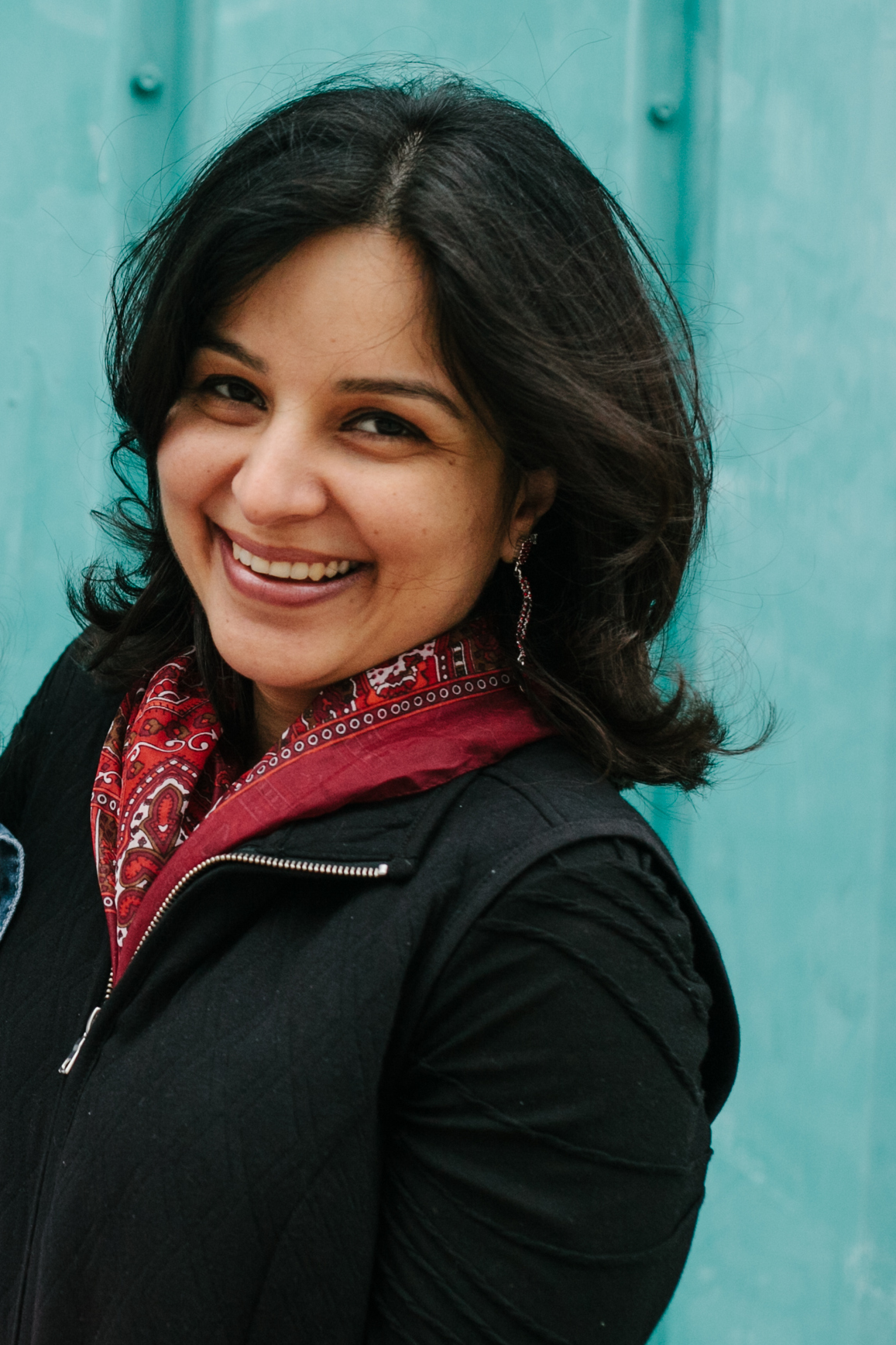 We're exploring the world of the dozens of local artists featured at MMAC's 2018 EAST gallery and their mediums. The goal of this series is to shed light on real-life Central Texas artists exploring what & why they create.
This has been a big year for you! Tell us about what you've been up to since the last time you exhibited with us!
Wow! 2018 has definitely been a big year and it's not over yet! This will be my second year exhibiting my artwork for EAST at ASoF and I'm so excited to be back. Thank you for having me! This past year I've grown my body of work in two main areas - my Warli tribal art and my abstract art. With the message of honoring our roots I have been working on bringing focus to Warli, an ancient art form from India that is still practiced today. One of my Warli paintings is part of this year's People's Gallery exhibition at the Austin City Hall. I got to meet Mayor Steve Adler and it was such an honor to talk with him about the diverse arts in Austin. Which brings me to my abstract art - my abstracts have always had a message of building a supportive community and that's the direction I have followed with them this year. I've worked on a few corporate and private commissions this year and I was so happy that all my clients wanted to symbolize harmony and positive energy in these works, which worked out perfectly for me, because hey! That's what my work is about! I am filled with gratitude for their support of my art because the business of selling art is a whole other beast. This past year, I have been working quite a bit on that with a new website with online shopping and of course! social media - can't escape that one! But, no, it's been nice to be a part of it, several exhibitions around town, WEST, and am now looking forward to being back at MMAC for EAST.
Your art is very vibrant and colorful! How do you choose your subject matter or what color you choose to put on paper each day?
Color is my thing to say the least. My abstracts are inspired by nature and its elements, making them uniquely relatable for each individual. Before every piece I seem to go on a meditative and introspective journey, but also include spontaneous play in my process. I go for walks and get inspired by the trees that surround me and the self-help audio books I listen to while on these walks. I'm kidding, but no seriously, there is something very grounding about this experience. Sometimes with Brené Brown talking in my ears and sometimes with the sounds of nature in my ears, colors and compositions come to me. After that it's all about playing with my materials to translate those visions into art. Hopefully when people look at my art they can see that I can't create art alone, that it's made possible with inspiration from nature, support from them, my friends and family. And hopefully this and my vibrant colors inspire them to be positive, to collaborate, to nurture and support. We, as humans, are more alike than we are different. Just as colors come together to form beautiful art so do people to form a supportive community. It takes a village to raise a child or to bring about monumental change. My vibrant colors play a small part in building our community.
What is your favorite part of being an artist in Austin?
I love Austin. We have such a great community here of creatives. I have found wonderful friends here who are also artists. We support each other, keep each other in the loop and look out for each other. I'm so grateful for all the art appreciators and collectors because they support art, not just mine, but also of other local Austin artists by showing up at galleries, art festivals, exhibitions, events, you name it. Austin has a great variety of art galleries, Art for the People, Link & Pin, both where I have shown my work, that keep our creative culture alive. Our city council has a dedicated budget for art, grants, events and exhibitions. It warms my heart to see art being given the importance it deserves because of how much it impacts our socio-political climate. Austin has so many non-profit organizations dedicated to supporting art and arts education - Big Medium, Chula League where I'm a board member and Creative Arts Society are my favorites. The Contemporary Austin has some amazing educational programs for school kids and I was lucky to be invited to be a guest artist instructor at one such program. I also teach art at my home studio and the reason I'm able to do this is because there are people in Austin who believe that their children must learn art. It's as simple as that! This belief in art - that's my favorite part of being an artist in Austin.
I'd like to say one last thing, even though you didn't ask. It's not easy being an artist. I went from being a long time Electrical Engineer to a full time artist. It took determination, commitment, courage and a lot of vulnerability. It still does. As an artist, I come face to face with my fears on a regular basis, rejection is the subject of many emails and evaluations are plenty. And yet, as an artist, I get to live my life fully with purpose and a bright light within me. I feel brave and strong. I get to laugh fully and even capture this in my art. I have lit a spark in my students' lives while embracing my own reality. My heart is full. For this, I say thanks to Art. To whoever is reading this, come to Austin School of Film / Motion Media for EAST to learn about local Austin artists as we share our art and our lives with you.
ABOUT BIG MEDIUM'S EAST AUSTIN STUDIO TOUR:
Big Medium's East Austin Studio Tour (EAST) is a free, annual, self-guided art event spanning two weekends in November. EAST provides opportunities for the public to meet the artists and artisans of Austin in their creative spaces.